So yep. This name has changed again. Why? Well Furiously bookish seemed to trap me in a box of only books, which would be cool (being stuck in a box of books).
But I want to be able to blog about life, the Bible, writing, and books. So furious ever afters is the new name and is staying. I know I've changed a lot in the past few weeks but I've been trying to grasp at my blogging identity, and it's here now.
And today I realized that I never posted my memorial day post.
Memorial day is to remember those fallen but also those whose freedom and identity were stripped away.
For those who are/were missing and location unknown. These men and woman serve us so we can wake up tomorrow not worrying about these things. As we remember the fallen we can also remember who haven't fallen all the way. They could be in a prison camp or missing. Their families grieving because it would be easier to know whether or not they were dead than to wonder where they are. If they are. They could be lying somewhere dying.
Bleeding.
Since they give their lives shouldn't we acknowledge them? As a big military history fan, I think about it sometimes. As I study World War two and the Civil war (sometimes present ones) you see that so many people died so that others could take another breath.
Nearly 500,000 military personnel died during the U.S. Civil War.
That's five hundred thousand people, sons, husbands, brothers, and some maybe even wives, sisters, and daughters.
That number represents many bodies, many souls, many stories. Every one of those men and woman had a story. A story behind why they joined or were drafted.
405,399
That's the estimated amount from World War two.
Even more stories and souls. And people still give their lives today for us.
For our freedom.
One POW from World War Two is Louie Zamperini. His story and book are inspiring and amazing.
The movie was also really good.
synopsis//
On a May afternoon in 1943, an Army Air Forces bomber crashed into the Pacific Ocean and disappeared, leaving only a spray of debris and a slick of oil, gasoline, and blood. Then, on the ocean surface, a face appeared. It was that of a young lieutenant, the plane's bombardier, who was struggling to a life raft and pulling himself aboard. So began one of the most extraordinary odysseys of the Second World War.
The lieutenant's name was Louis Zamperini. In boyhood, he'd been a cunning and incorrigible delinquent, breaking into houses, brawling, and fleeing his home to ride the rails. As a teenager, he had channeled his defiance into running, discovering a prodigious talent that had carried him to the Berlin Olympics and within sight of the four-minute mile. But when war had come, the athlete had become an airman, embarking on a jour
ney that led to his doomed flight, a tiny raft, and a drift into the unknown.
Ahead of Zamperini lay thousands of miles of open ocean, leaping sharks, a foundering raft, thirst and starvation, enemy aircraft, and, beyond, a trial even greater. Driven to the limits of endurance, Zamperini would answer desperation with ingenuity; suffering with hope, resolve, and humor; brutality with rebellion. His fate, whether triumph or tragedy, would be suspended on the fraying wire of his will.
Louie has tons of amazing quotes that I would put above my writing place or anywhere.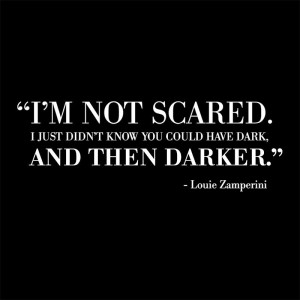 So while we celebrate.... (wait I'm late)....
Well even as we go about our days normally, we can remember that there are people sacrificing for us.
For our freedom.
Just as Christ gave his life for us just as those Soldiers, Marines, Airmen, Seamen, and Coast Guards do.
"

There is no greater love than to lay down one's life for one's friends

" -

John 15:13
Happy belated Memorial day.🇺🇸🇺🇸🇺🇸
POW's and MIA's, you are not forgotten.
Never forget those who gave you the chance at life;
Jesus or that Soldier, Marine, Seaman, Airman, or Coast Guard.
How was your Memorial Day?
//hannah